Model of Cation Transportation Mediated by High-Affinity Potassium Transporters (HKTs) in Higher Plants
Biological Procedures Online
2015
17:1
Received: 30 September 2014
Accepted: 6 December 2014
Published: 6 January 2015
The Erratum to this article has been published in Biological Procedures Online 2015 17:9
Abstract
Trk/Ktr/HKT transporters probably were evolved from simple K+ channels KcsA. HKT transporters, which mediate Na+-uniport or Na+/K+-symport, maintain K+/Na+ homeostasis and increase salinity tolerance, can be classified into three subfamilies in higher plants. In this review, we systematically analyzed the characteristics of amino acids sequences and physiological functions of HKT transporters in higher plant. Furthermore, we depicted the hypothetical models of cations selection and transportation mediated by HKT transporters according to the highly conserved structure for the goal of better understanding the cations transportation processes.
Keywords
HKT transportersCation transportK+/Na+ homeostasisNa+-uniportNa+/K+-symport
Introduction
Sodium (Na), unlike potassium (K), is not an essential nutrient element for the most of higher plants but may be a beneficial element for some species [1-3]. In higher plants, Na+ could act as an osmoticum and temporarily substitute for K+ in deficiency or insufficiency of K+ [4-6]. Na+ is able to stimulate growth of fungi and plants as long as the accumulation and compartmentalization are efficiently controlled below a limited concentration at the cell and tissue levels [6-9]. Excessive Na+ in the external environment could lead to the detrimental effects on plant growth, and even cause plant death. The toxic levels did not defined in detail and were supposed to depend on cell types [9], but it is viewed that the cytosolic concentration of Na+ should not be higher than 10–30 mM [10]. Additionally, tissue K+/Na+ ratio is a widely used parameter in discriminating genotypes for salinity tolerance of higher plants [11-20]. Plants can maintain high cytosolic K+/Na+ ratio through excluding Na+ from shoots and accumulating K+ in shoots [21-28].
For resisting Na
+
toxicity, plants developed three mechanisms for salinity tolerance to maintain potassium/sodium homeostasis (Figure
1
): 1) Na
+
exclusion from the shoot, 2) Na
+
tissue tolerance and 3) osmotic tolerance [
29
,
30
]. Till now, a series of transporter systems have been reported which help plants to improve salinity tolerance by inhibiting Na
+
influx, enhancing Na
+
efflux, or mediating the sequestration of Na
+
into the cell vacuoles (Figure
1
). Simplified model for mechanisms of K
+
/Na
+
absorption, recirculation and extrusion by different classes of Na
+
channels/transporters are shown in Figure
1
, such as nonselective cation channels (NSCC) [
31
-
33
], cation-Cl
−
co-transporter (CCC) [
34
], low-affinity cation transporter (LCT) [
35
,
36
], salt overly sensitive 1 ( SOS1) [
37
-
41
], Na
+
/H
+
antiporter NHX1 [
42
-
46
] and high affinity potassium transporter (HKT/HAK) [
27
,
28
,
47
-
50
]. Plant root cells generally take up Na
+
/K
+
from soil through some channels (NSCCs, AKT1, LCT1 and CCC), transporters (KUP/HAK/KT and HKT) and apoplastic. Channel permeations and apoplastic are the main pathways of Na
+
influx under salt tress. The SOS pathway mediates efflux of Na
+
cross the plasma membrane to the soil solution or apoplast. NHX1 partitions Na
+
within vacuole and jointly regulates the cytosol Na
+
concentrations. AtHKT1;1, OsHKT1;5, TaHKT1;5 and TmHKT1;4/5 retrieve Na
+
from the xylem into the xylem parenchyma cell and prevent the shoot from Na
+
over-accumulation damage. It is hypothesized that AtHKT1;1 mediates recycling of Na
+
from the shoot to root through removal of Na
+
from the xylem and loading Na
+
into the phloem sieves. These processes assure a normal K
+
/Na
+
homeostasis and also maintain a high K
+
/Na
+
ratio to rescue plants when suffering salt stress.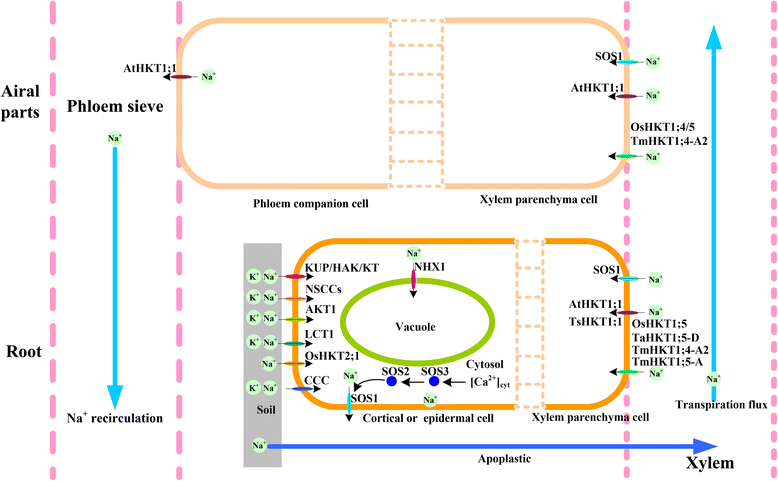 HKT transporters belong to a superfamily of Trk/Ktr/HKT and play a vital physiological roles in plants. Plant HKT transporter is a multiple cation uptake system, which can mediate Na+ uniport, Na+/K+-symport and even Mg2+/Ca2+ permeation. Function of plant HKTs depends on its structure. Therefore, for better understanding how HKT transporters work in higher plants, it is necessary to construct a model of cations uptake mediated by HKT transporters through systematically analyzing the conserved structures of HKTs. In this article we hypothesized a model of cations selection and transportation mediated by HKT transporters.
Declarations
Acknowledgements
This work was financially supported by National Natural Science Foundation of China (Grant No. 91317312), Scientific Research Fund of Hunan Provincial Education Department (Grant No. 12 K060, 12 K061 and 13 K065).
Authors' Affiliations
(1)
Hunan Provincial Key Laboratory of Phytohormones and Growth Development, Hunan Agricultural University, Changsha, China
(2)
Hunan Co-Innovation Center for Utilization of Botanical Functional Ingredients, Changsha, China
(3)
Chengnan College, Hunan First Normal University, Changsha, China
Copyright
© Su et al.; licensee BioMed Central. 2015
This is an Open Access article distributed under the terms of the Creative Commons Attribution License (http://creativecommons.org/licenses/by/4.0), which permits unrestricted use, distribution, and reproduction in any medium, provided the original work is properly credited. The Creative Commons Public Domain Dedication waiver (http://creativecommons.org/publicdomain/zero/1.0/) applies to the data made available in this article, unless otherwise stated.